Nila:
The other day I was watching a documentary of BBC on History of Africa and they started with Morocco. Mentioned that some men there wear blue robes so much so their bodies are blue as they do not wear any thing else under.They cover faces and head except eyes with a blue scarf to keep sand and sun and heat away. It is not hijab as such. These men are different from Arabs who call them "Blue Men" and say they are Berbers. Only very few profess Islam and speak Arabic but also have their own language. Their women in general do not cover their faces as the Arab women do for modesty. The Blue men mostly live in deep desert carrying goods on camel caravans from place to place.They manufacture these robes from fabric that is obtained from a tree called 'nila' found in sub Sahara regions.
I was amazed to learn that. We in north India have the word nila for blue! (And Lord Shiva is also called 'neelkanth?) because He drank poison? and poison is blue like nila thotha, (chemically copper sulphate) is a poison and is blue. In school, when glue was not so freely available and we were taught book binding in technical class, we were boiling some white flour (maida) till it becomes sticky. mixed a little thotha for the sake of book worms dying if ever they try to eat our bound books!!!!!!.
Also in north India we used to mix a little neel (blue powder) with some maidah in water and soak in it pre washed white cotton clothes. It gave a fine, very subtle blue glow that enhanced whiteness and the starch (kalaf) when dried would give a stiffness texture to the garment.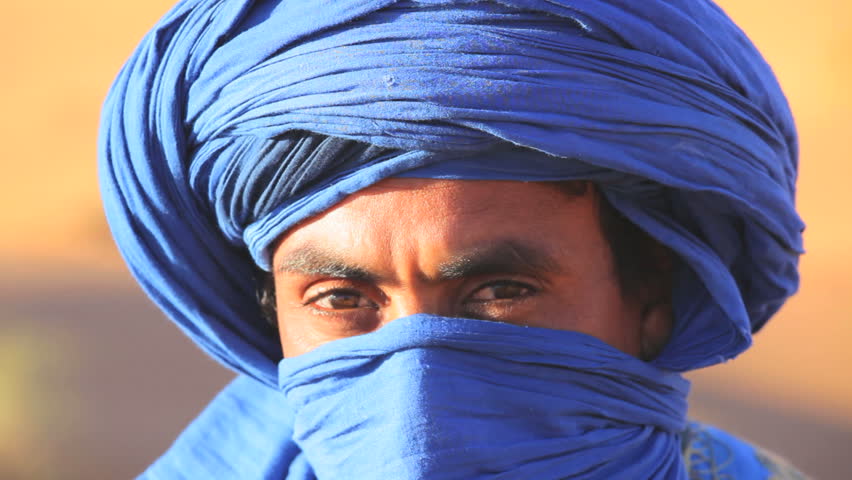 ٰ
It will be wrong to say all Arabs wear blue robes called abaya. I have never been to Morocco and so have not seen these blue robes, but in Saudi Arabia and in the UAE, 99% men wear stark gleaming white abayas and red checkered head scarf with a black ring on the head; yes when in the desert they cover the faces and head except eyes like any desert dweller.
 Omani men wear unique abaya  generally light coloured but always a unique cap or head gear and a pair of sandals. I bought an Omani cap from Muscat for myself. It is beautiful and unique.